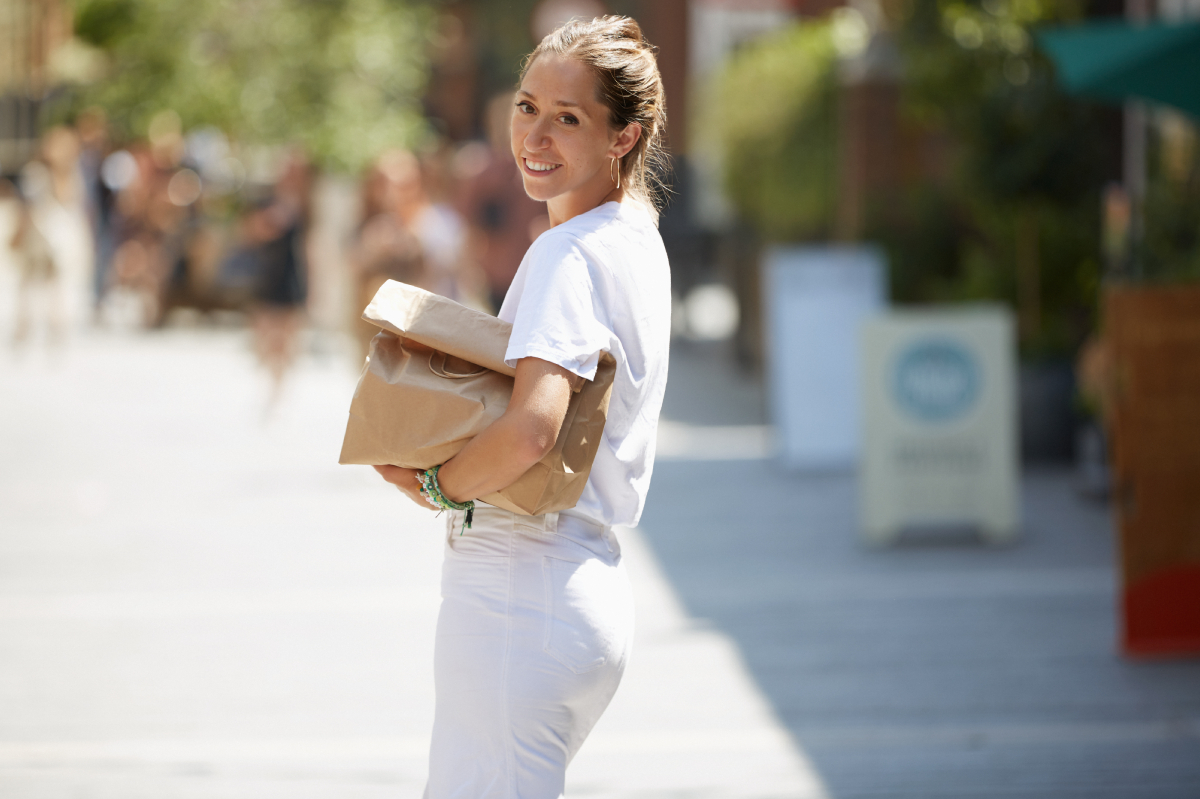 Nina Parker has worked in some of London's most acclaimed restaurants, has two successful cookbooks – St Tropez and Capri – under her belt, (a Saucy) one in the works, and is considered one of the most sought-after private chefs in London.

Nina's passion and non-stop work ethic has been more apparent than ever in the recent months: whether it's cooking up recipes for her food company NINA, inspiring Instagrammers around the globe to get into the kitchen or contributing as a columnist for Tatler and Eco-Age, Nina is never not working. We recently caught up with her to discuss her love for food, the importance of sourcing good quality ingredients, and how we can all make small changes within our eating habits to benefit the environment.
We're totally inspired by your passion and approach to food. What initially drew you to becoming a chef?
Since I was little, I have always loved desserts and my Polish grandmother introduced me to rich foods such as lobster, oysters and crème brulée when we were on holiday in the South of France. It's a passion that continued to develop in my early twenties. When I left university, I started working in a restaurant with the intention of one day opening up a chain of cafés. It was only after I started working in the kitchen at L'Anima, Liverpool Street, that I really became obsessed. Each plate of food that left the pass was like a work of art. Food quality was a top priority there and I'll never forget the amazing gelato that they used to churn every morning before service. It was the most incredible ice cream! It was hard work, but I loved the energy and creativity of the kitchen. This experience gave me the drive to carry on working in London restaurants for 3 years before I set up my catering business in 2012. It wasn't the best-paid job, but I kept saying to myself that as long as I loved what I did and worked hard, I would somehow find a way to make it work. Then, in tandem to launching my business, I signed a two-book deal. So my hard work was starting to pay off!
Describe your relationship with food – what pulls you to certain ingredients?
My food is colourful, uses strong flavours and is mainly vegetarian or vegan. I follow the seasons and try to pick vegetables that are as locally made as possible. I'm lucky where I live because lots of the shops are small independents and don't use plastic. At the moment we are in summer, so the choices are endless. I'm being drawn to tomatoes, aubergines, basil and soon, green beans. When choosing food, it is about seeing and touching at the beginning. If I'm picking berries then I will try them first, but usually just touching them will allow you to tell if something is ripe or not. If you pick food when they are in season and they look and feel right, more often than not they will be delicious.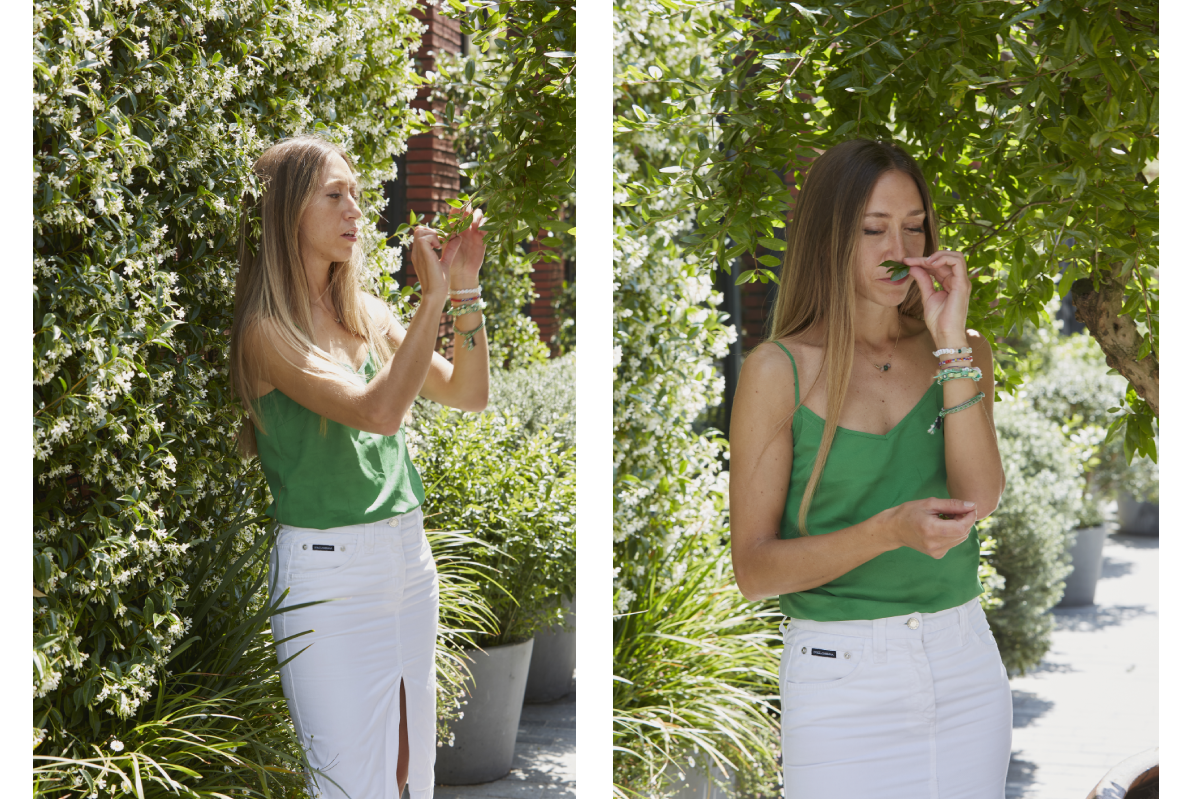 What's important to you regarding the sourcing of ingredients and the way you put food together?
I don't eat meat anymore and hardly any fish either, but if I'm cooking them for clients I will only buy organic from a butcher or fish monger that I trust. I'm happy to pay more to know that the animal has been treated well, farmed with care and that the quality will be good. I only buy organic eggs and try to do the same with vegetables. However, it's not just organic that leads my buying decisions; non plastic-wrapped is equally important. I've been veggie now for almost 4 years and I never tire of it - it makes me feel great and inspires me to cook.
We're now all aware of the terrible price the environment has paid for our eating habits – how would you propose that people change their approach to food to benefit the environment on a global level?
Wow! Big question! I mean, eating locally-sourced British food is so important. If you see food in plastic that has come from Peru, then try to buy another vegetable instead that is from the UK, or even France. It's so important to get into the habit of asking where the food has come from. I also think it's great how more people are eating less meat and following a vegetarian diet. If you can swap to one plant-based day a week then it will make a huge difference to your carbon footprint. I don't believe that any diet should be changed overnight; things should be done gradually. I'm a big believer in a vegetarian diet because that has worked for me and it's one of the easiest, fastest ways that a single person can have an incredible impact on helping the environment. I would also avoid products containing palm oil that isn't certified by the World Wild Life organisation (they have a comprehensive list on their website). I think with all these things, it is about the consumer asking questions, doing the research and making a choice.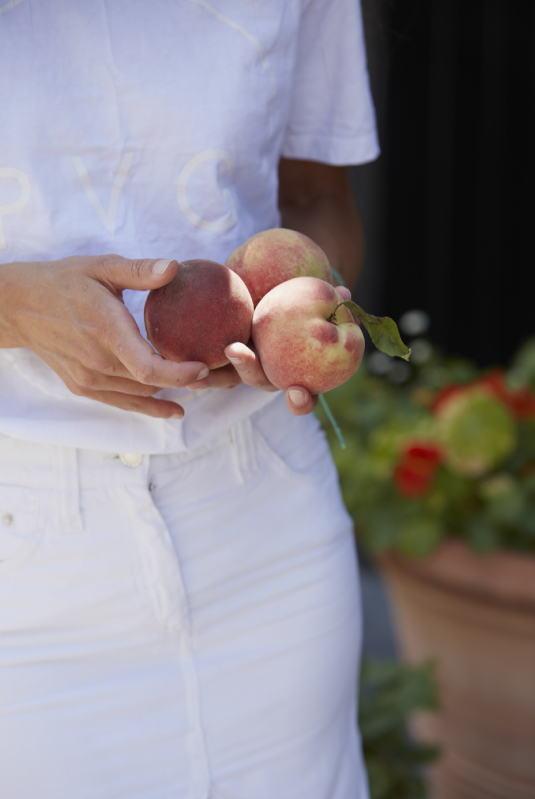 Where do you see your food journey evolving from here? Have the events of 2020 made you re-evaluate your plans in any way?
This year has indeed been a shocker! I have tried to focus on my online presence and creating more recipes on Instagram. I have a new book coming out in November, so that is keeping me very busy at the moment. It's called NINA, Saucy and has over 100 recipes with dressings, marinades or pasta sauces. Basically, the thing that makes the dish and enhances it is the sauce! It will mostly be vegetarian/vegan with a few special meat and fish ones thrown in. It's inspired by the places I've travelled to recently, which includes Tokyo, Mexico and Los Angeles. The LA food scene was a huge inspiration to me. This will have a different look to my other two books, so I'm excited to share the photos. We started the first shoot in July and I'm happy with the way it's looking so far.
Who would be your best dinner party guest to cook for?
Roger Federer every time! Basically, I would like to meet him and ask him a thousand tennis questions.
Do you have hidden gems to share in London where you source particularly fresh and delicious ingredients?
I love Belazu tahini which I use all the time in my cooking. There is a famous grocer near me called The Newington Green Grocer and you can always get speciality veg, micro herbs and edible flowers. For fish, Fin and Flounder, Jaines and Son's (both east) and The Chelsea Fish Monger, and Provenance for meat.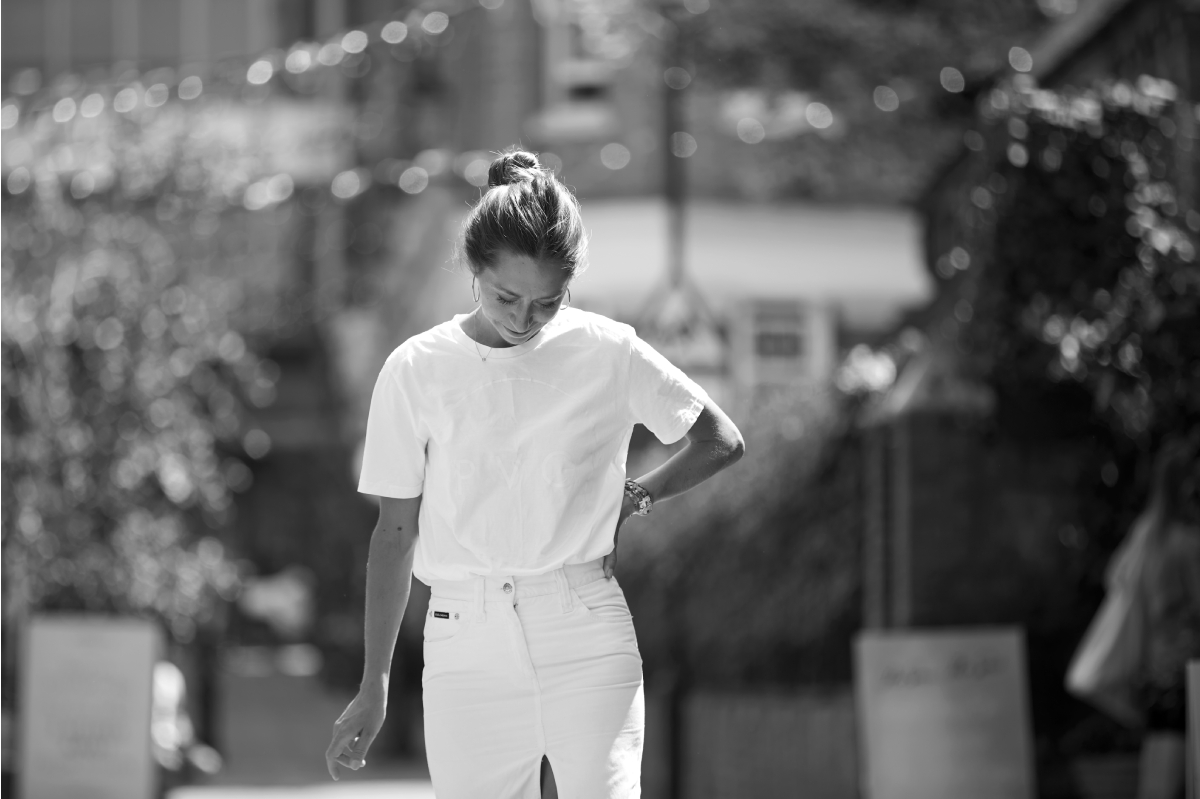 What would be your desert island meal?
If I was on a desert island, then I would probably catch some lobster or prawns and grill on an open fire. Then I would serve with a butter lettuce, chives and homemade lemon garlic mayo. I would finish off with vanilla ice cream, hot dark chocolate sauce, whipped cream and toasted almond flakes. Although, I'm sure after the prawns, it might be hard to find the rest on an island!
What's your favourite restaurant spot in the world?
I love Dusty Knuckle Bakery, Westerns Laundry, Bubala and I never tire of Bocca Di Lupo.
What are the daily rituals you swear by
I start almost every day with a 20 minute meditation with crystals, affirmations and a cold one minute shower. Usually I go to a yoga class, but during lockdown I switched to the Glo yoga app and I sometimes squeeze in a 15- or 30-minute session. I'm a new-age hippy/cliché for sure! I love using Vanderohe serum at night and once a week I'll use the exfoliating powder. I love all of these things to keep my mind in a good place and focus myself for the day. I notice the difference immediately when I stop doing them.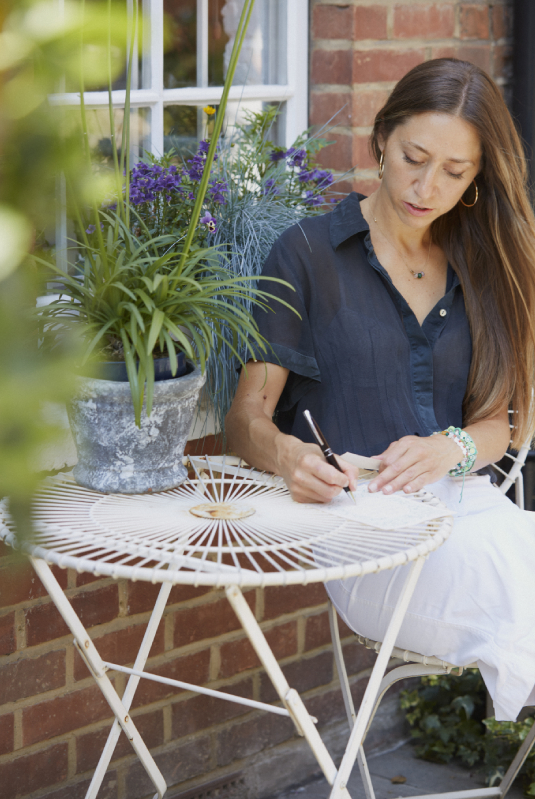 What has been the biggest take away from the year so far?
I think those self-help practices have never been needed more and I have really felt their importance. I feel like I appreciated things before the pandemic, but my appreciation has grown hugely. I won't be taking anything for granted ever again! I am also making sure that I slow down and enjoy each day more. I love the way people are not as busy as before and you can hang out with someone at a moment's notice. Also, I am now a London cyclist and I am loving it! There are positive changes and I just hope they will stay.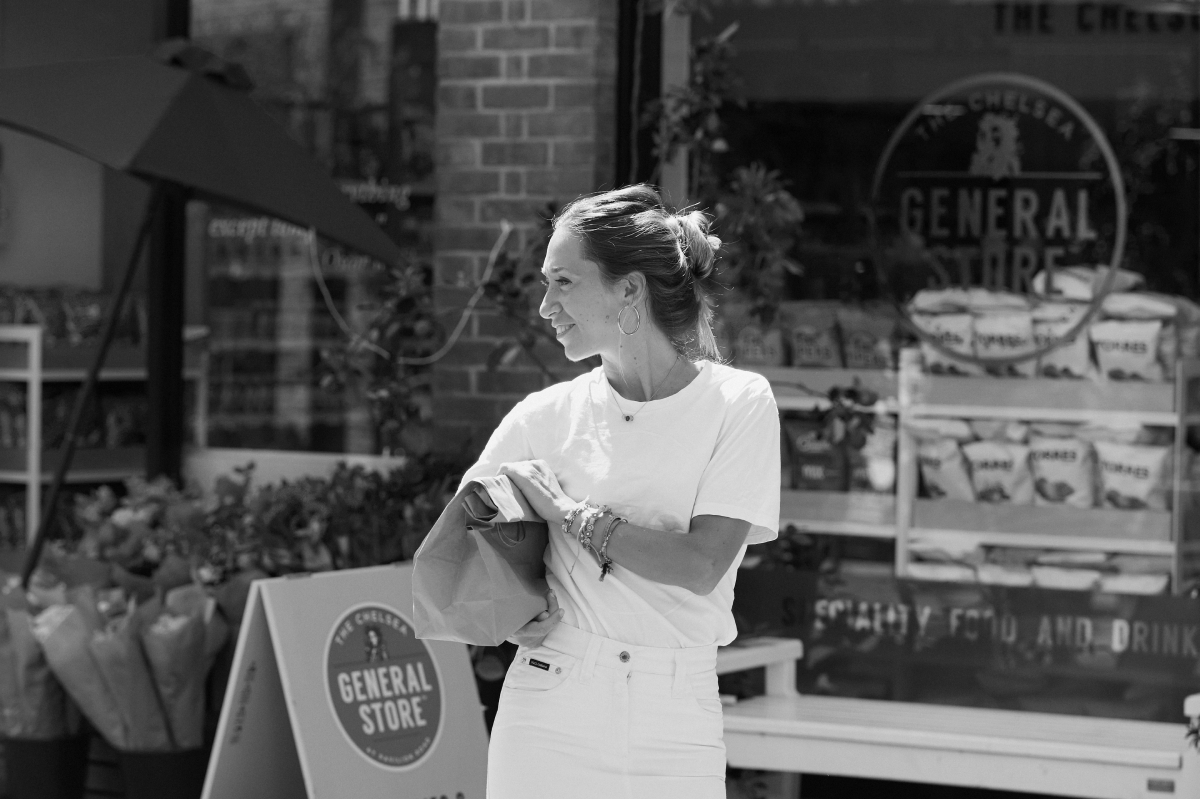 Photography by Helene Sandberg.